I have had such a big week of Features this week. I feel so blessed!! I have been Featured FIVE times at different blogs! I am so excited about this! That made it #18, #19, #20, #21 and #22 features for me!! YAY!

On Monday I was Featured Twice:
I look up to both of these lovely ladies so much. They have such awesome blogs and they give me such great inspiration. The first place I was featured at is
She featured my Wood Leprechaun Hat.
The second place I was featured was at
She featured my St. Patrick's Day Mantel.
On Tuesday I was Featured at:
This was a surprise feature for me. I have never met Wende. She found my muffins on Pinterest and featured them as a recipe she wants to try!
She Featured my Caramel Banana Muffins
Today I had another fun surprise and TWO of my things are being featured at: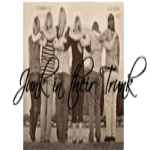 Two of the sisters Featured two of my things:
The frist was my St. Patrick's Day Mantel
And the Second feature was my Leprechaun Wood Hat
To see the post on their blog go
HERE
.
Thanks again Ladies for featuring my crafts and recipe!
I feel so blesses and am extremely honored and lucky!!
To see all the other places I have been featured