My amazing oldest sister just turned 40 in December. She has been married for 12 years. They have been trying to get pregnant ever since. They have had no such luck. Long story short....after many many years they finally were able to get pregnant all on their own!!!!! It is such an exciting thing happening in our family. She is actually having her little boy in 2 weeks! I can't wait to meet him. A couple of weeks ago all my sisters, mom and I threw her a baby shower. I wanted to make something for her to put up at the shower for decoration and also that she could take home with her to put in his nursery.
I finally came up with the idea of getting his initials in paper machete letters and then making a sign to put next to them. I went to Hobby Lobby to get the letters.
She is doing his room in Jungle Theme so I found some paper that went with that. I then traced the letters on each paper and cut that out.
Next, I mod podged the paper to the letters.
While that was drying I made a sign that I put next to the letters. I saw this saying last fall and knew it was PERFECT for my sister with this baby coming. The saying is "Such a tiny baby for such a big miracle." I found a block of wood and painted it lime green.
After that dried I stained the whole thing. I used the color red mahogany. I love this color. There really isn't a lot of red in it. It just goes really dark brown.
Next, I cut out the saying on my cricut using brown vinyl and put that on the block. I put a coat of mod podge over it so the letters don't come off...especially since its going in a baby's room!
I found some cute brown polka dotted bottle caps at Hobby Lobby. I fell in love with them. I stuck one to each letter. On one of the letters I added lime green leaves behind it.
Here is what is looks like all done:
Joining the Following: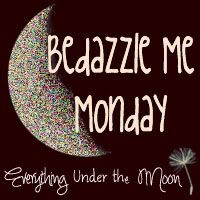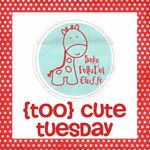 div align="center">